Spiritland: Awakenings
Spiritland was the first joint musical venture that I was involved in. I had put an advert in 'Selectadisc', a local record shop, in the hope of finding someone interested in forming a band. What I actually got was a chap by the name of David Waddington. David was an extremely talented and versatile guitarist, who could play anything it seemed. My role in the project that became Spiritland was primarily in arranging and sequencing the keyboards and drums, using Pro 24 on an Atari ST to trigger a Roland D5, Roland Juno-106, Roland JX-10, Kawai K1r and Boss DR-550.
These were recorded on a Fostex X-28 analog 4-track and then layers of guitar and vocal tracks were overdubbed, bouncing 4 tracks to 2 using another tape deck. As Dave came up with most of the chord progressions and lyrics I seemed to end up doing intros and middle eights and using various keyboard sounds to differentiate between song sections, layering different sounds to build intensity. It was a hugely interesting learning period for us both and I think we are probably both pretty proud, even today, of the resulting album. As chronicled elsewhere in my bio, all good things must come to an end and Dave left in the pursuit of a professional musical career. At long last, 10 years later, a cd of this project is available (new artwork below)

David is now a solo singer and guitarist and Jez composes electronic music as Modulator ESP
Full MP3s are available to download from www.soundclick.com/spiritland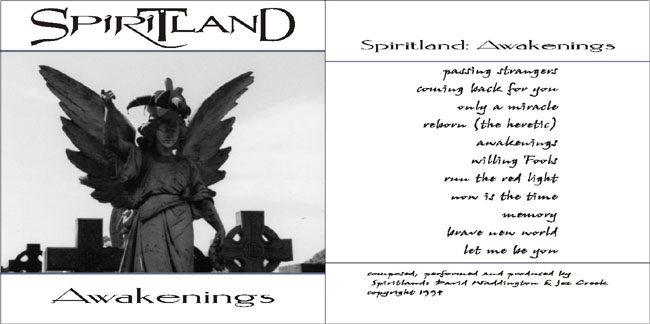 www.modulator-esp.co.uk - all content copyright 2004 Modulator ESP and Jez Creek
All photos and artwork by Jez Creek unless otherwise stated.