Astrogator - Dreamlight

Featuring music recorded live at the rehearsals on the 2, 3 and 4th June 2006 for an appearance at the Awakenings on 8th July 2006. Artwork and design by Jez Creek. Reviews below.

Equipment Used

Jez Creek:

Nord Modular, Prophet-600, Prophet VS, SH-101, Mono/Poly, Microwave XT, Wavestation SR, P3, M-VS1, MS6, 1201, Echo Pro, ER-1 & Regelwerk

Steve Humphries:

V-Synth, K-Station, KeyStation 49E, JV1080, Virus B, Microwave XT, Nord Rack 3, Schaltwerk, M300, Reason
Astrogator - The Darkness Between

Featuring music recorded live at Astrogator's first Chesterfield Jam sessions on 13th and 14th December 2004. Artwork and design by Jez Creek. Reviews below.

Equipment Used

Jez Creek:

Doepfer MAQ16/3, Korg Electribe ER-1, Korg Karma, Korg Wavestation, Line 6 Echo Pro, Novation Supernova II, Nord Modular, Waldorf Microwave XT, Yamaha AN1x

Steve Humphries:

Alesis Ion, Evolution MK261, Korg Legacy, Korg MS2000BR, Korg Prophecy, Novation K-Station, Novation Nova II, Propellerheads Reason, Yamaha CS1x
mp3 samples (all 128kbps) Click to play or right click on

and select 'Save As' to download the files
Further samples are available on Myspace.
| | | | |
| --- | --- | --- | --- |
| | part one (26:55) | 3.48Mb | (3:47 excerpt from approx 19:00-22:47) |
| | part two (14:30) | 2.74Mb | (3:00 excerpt from approx 0:00-3:00) |
| | part three (16:48) | 1.86Mb | (2:02 excerpt from approx 10:00-12:02) |
Now available to purchase direct from the band on the merchandise page
Also available from these fine retailers Groove, Synth Music Direct, Backroads and Eurock
Reviews of Dreamlight
A limited edition CDR of 50 copies, it may already be too late for you to find this disc, but if you still can by all means grab one. Two lengthy Berlin school improvisations take us on a first-rate space journey. "Part One" is nearly 47 minutes. Beginning with spacey electronics, mellotron choirs and other typically Teutonic retro sounds, this is good stuff. Atmospheric for the first several minutes, a steady backbeat emerges approaching the 8:00 mark. The first proper sequence appears as we pass 13:00, along with a nice synth solo over the top, followed by a brighter sequence over the first. The buildup of energy is perfect, reaching its peak around 16:00 and then mixing it up in both the sound palette and the intensity. By now the hypnotic loops are going full throttle, though still with an ethereal deep space sense about it. We finally reach the crest and head back down 23 minutes in, smoothly segueing into a dreamy more abstract passage. This is classic stuff, like Tangerine Dream circa 1980. Just when it seems the music will be content to quietly reflect another sequence comes forward just before the 36:00 point; it is ultra cool and carries the music to its conclusion. This would make the album alone, and is longer than most records were back in the day, but we still get 23 minutes more with the second part. Whooshing wind and synthetic sounds start things softly, those lovely choirs return, and a similar pattern follows as we build slowly to the inevitable and enjoyable sequencing, which keeps the energy level just so for the remainder. If you like Berlin school as much as I do then you will love Dreamlight.

© 2007 Phil Derby / Electroambient Space
Part One starts with an otherworldly landscape: twittering synths, echoing sounds, distant Mellotron choirs. It's all very well executed and extremely cosmic! After 8 minutes, a bass rhythm gradually creeps in, giving more focus and purpose to the soundscape. A Mellotron flute can be heard, sounding melancholic, rather than mysterious. The rhythm then departs and a strange panned sequence emerges, backed by sparse bass beats. This is some intriguing music! A more upbeat sequence can be heard, along with a lead line. Even more sequences are added to the mix as the track becomes quite a ride. This is complex EM that beats most modern "Berlin School" to dust. The sequencing is really, really convincing and rich. A melody cries on top, and then another one. Intense is the word for it! Little by little the tension is released and one can hear some Mellotron choirs, although the pulsations are still around. As we are closing the 23-minute mark, only one bass sequence remains that soon departs for a purely atmospheric section. Really weird sounds and twitters is what we get for some moments, before it all returns to the melancholic / melodic territory, with gentle liquid soloing over the breezing soundscape. This is simply great stuff and totally original, not a copy of anything! These guys sure know how to do it. This music is filled with cosmic grandeur and melancholia if you imagine such combination. It is amazingly gentle, without sounding twee. That high-register Mellotron flute really gives me the goose bumps. A minor-chord bass sequence interrupts the flow to take us to another rhythmic section. This time the mood is that of menace and even aggression. The sequences are straight 'n plain and the occasional bass throb only gives them extra oomph. The guys really let their steam off with this ballsy sequencer fest. I can't even count how many sequences are running at the same time. A solo is blasting on top, as if there was room for it. Everything them calms down, leaving you totally exhausted.

Part Two begins in a similar manner to Part 1: the whooshing of the wind, subtle twitters... Soon, a Mellotron choir appears along with subtle lead sounds, taking us back to where the calm sections of Part 1 left off. Great, great music! A pulse appears after 5 minutes wrapped in a bed of Mellotron choir. The pulse gradually develops into a full-blown sequence. Various lead lines and atmospheres are added where needed, resulting in a very intense, busy and energetic EM track. A moment of calmness follows where everything disappears into the void. Another sequence appears along with a playful Mellotron flute refrain. I must say things have become very unusual by this point - distorted textures, some rhythms, strange sequences. However, a cosmic lead line reminds us we're still in the EM land. Little by little, things settle into a groove that finishes off this great slab of classic EM.
Review by Artemi Pugachov - Encyclopaedia of Electronic Music
Reviews of The Darkness Between
There are many Berlin School "tribute" or "retro" bands out there that tries to keep the 70s electronic music subgenre alive, and many of them do a good job but many of them are genre faithful almost to the point of repetition and clichés, if one looks at the music from a bigger perspective than genre masturbation (which is not necessarily bad - just not what you always are in the mood for). Berlin School (BS) bands can have a problem if they try to innovate because if they loose the Berlin School image, they might alienate the little audience they have, and also loose focus on the music they love.

Then we have bands and albums that are not pure Berlin School as such but "electronic music" with strong roots in the BS genre. Astrogator's The Darkness Between is such an album, what I would call new-BS or classic space electronica with evident BS influences. Their own description is spot on, for this album at least; "They produce electronic music inspired by such artists as Arcane, Jean Michel Jarre, Radio Massacre International, Klaus Schulze and Tangerine Dream. The music of Astrogator is mostly improvised and ranges from abstract ambient soundscapes to intensely rhythmic sequences overlaid with melodic and progressive elements".

The album has only 3 tracks, which make them long, not uncommon in this genre. The advantage of really long tracks is that length gives room for structural developments of an epic scale, and more room for musical thought. Astrogator uses the long stretches here to good effect, as no tracks appear too long simply due to things that happen all the time in each track. There are new refreshing ideas, themes and structures introduced every few minutes at suitable intervals. One could argue that each new theme or structure could just be another new song so why not name the parts more individual, but each track is part of a bigger picture, where the first track represent traditional Berlin School music (without being genre copycats), the second track offers ambient washes, long chords, and slow beautiful movements, and the third track is a little experimental (for a BS album) with genre mixes and a spooky repeating boingy sound that adds a whole new dimension to the track just by itself. The third track is easily the best on the album, because it has hit a dark nerve and shows that BS can be innovative and traditional at the same time without loosing it's appeal.

The album's sound is a little unpolished and thin, with less than glossy production. It does not sound like a very fat, warm analogue 70s album like so many other retro-BS albums, which is a bit of shame because the tracks are arranged and constructed well, in spite of being mostly live improvisations (or maybe because of), and have become good "songs". But I am willing to overlook this aspect to enjoy the cosmic spheres and catchy sequences that show a lot of promise.

Rating: 7 of 10

Greetings from Glenn Folkvord - Web & content editor, Planet Origo
Email glenn@folkvord.net
Origo Sound music: http://www.cdbaby.com/all/origosound
Origo Sound info: http://www.myspace.com/origosound
Origo Sound news: http://groups.yahoo.com/group/origosound
ASTROGATOR: The Darkness Between

Just 3 tracks - essentially three parts of a single piece - between fourteen and a shade under twenty seven minutes, of which the longest opens the album with five minutes of early Schulze-sounding cosmic soundscaping before a piano chord wanders along as the synths begin to gather - more choral, more full-sounding - a light but chunky electro-percussive beat begins, the organ and synth rivers of sound start to flow and the whole track moves along with purpose while still retaining its atmospheric and multi-layered identity. With the addition of a single sequenced synth rhythm, the track begins to be moulded into a kind of early T Dream- Schulze kind of thing, only starker sounding than that might imply. Eventually, the addition of a beefy bass synth rhythm adds extra, necessary, strength to the track as it all continues to move in its new, more familiar realms, with synth leads now beginning to wander on top as the whole thing gradually flows back in time to the seventies. Around sixteen minutes the rhythms drop away to leave the rivers of space synths to drift and meander to the twenty minute point, whereupon a sequencer rhythm tarts up and the pattern of sound flows along below, all exceedingly seventies "Berlin"-like, eventually fading to a cosmic conclusion on a track that works by virtue of its construction. The fourteen and a half minute second part is a purely cosmic space synth affair, with assorted layers and textures doing their bit in an almost early Neuronium sounding manner and overall, keeping your attention as the soundscapes unfold. The near seventeen minute final part, is introduced by more space synths only this time a lot darker with an almost industrial intensity, and this swirling mass continues to the five minute point, whereupon a sequencer rhythm begins and the track is propelled into a driving sea of sequencers and electro-percussive undercurrents. Above all this the space synths continue to swirl as the rhythms strengthen and more melody-oriented synth overlays appear on top. The piece takes on an even more solid identity when a bigger, beefier drum rhythm appears but this only lasts a few seconds, sadly, as the rhythms as a whole begin to subside leaving just the cascading sequencers and layers of space synths to take the track to an eventually drifting conclusion. Overall, a good album - a bit minimal sounding compared to others in the field - but well constructed and arranged.

Andy Garibaldi (Dead Earnest)
ASTROGATOR: The Darkness Between (CD on Astrogator Music)
This release from 2005 offers 58 minutes of elegant electronic music.
Astrogator is: Steve Humphries (aka Create) and Jez Creek.
Astral squealings lead the audience into an interstellar medium where sonic textures approximate gaseous nebula resembling the cerebral folds of the human brain. Gentle tonalities bend and slither through this vaporous territory, encountering more demonstrative harmonics along the way. Stately keyboards emerge, guiding the flow in a more melodic direction. Soft e-perc enhance this sonic evolution, providing amiable rhythms for the looping riffs and intertwining sequencers. A density is generated after a while as these threads establish themselves into a thick cloud of electronic pulsations and sweeping textures. The music takes an energetic turn once it has reached the proper density. The tempos roll faster, adding peppy propulsion to the frolicsome keyboard patterns.
The music streams from this gentle dynamic into majestic soundscapes and back again with steadfast regularity, as if seeking its own breathing space before launching into another ascent to grandeur. Each atmospheric bridge delves deeper into psychic realms where the void possesses hypnotic properties riddled with restrained power.
Long-form structure dominates the three tracks on this CD, granting each piece ample duration to explore variations on the themes generated by the pair of musicians.
Review by Matt Howarth of Sonic Curiosity
Review from e-dition 10 (scanned image below)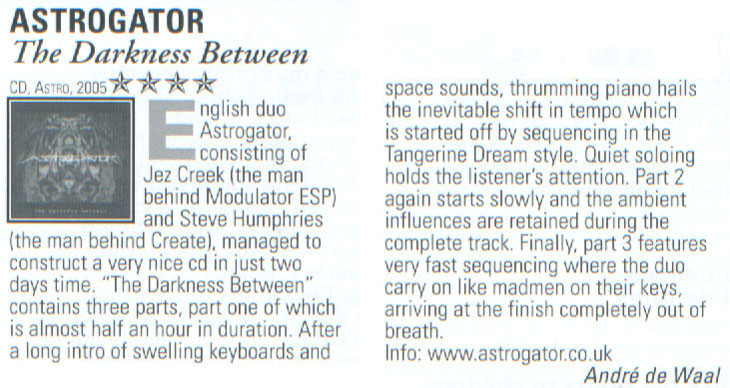 The Darkness Between (Self released, 2005) 3 tracks, 58.17 mins
Astrogator is the new project of two up-and-comers on the UK EM scene, Jez Creek a.k.a Modulator ESP and Steve Humphries a.k.a. Create. Separately, they make solid Berlin school recordings, so it's no surprise that together they are equally good if not a shade better. Three lengthy space music tracks offer plenty for retro synth fans to enjoy. Steve's affinity for Airsculpture immediately comes to mind on the 27-minute opening track. A long floating section of pure atmospherics expands the mind for several minutes. Approaching the sixth minute, piano that was hiding subtly in the background moves to the fore, and a steady beat gradually emerges as well. A couple minutes later the first sequencing emerges, sharp and crisp, moving at a slow to moderate tempo. Airsculpture has been pretty quiet the last couple of years, and this track by Humphries and Creek makes a welcome substitute. A Jarre-esque synth lead softly floats in and out of the mix. Even if it never went past this section it would be good, but toward the 20:00 mark another hypnotic sequence gets rolling, resting on a bed of wonderful string synths as the rhythms get a bit more intricate as well. At this point I lean over and ask my 9 year-old daughter if she likes it, and she bops her head along in approval. "Part Two" is nearly 15 minutes of drifting and swirling – no rhythm, no melody to speak of, just loads of space sounds layered on top of one another. Saw waves figures just a tad too prominently but otherwise this is another good one. "Part Three" takes us back into the stratosphere with equally good atmospheric and sequencer-based sections. I often find that the first album of a group has a certain magic, a sheer enjoyment in playing and creating, with just enough raw edges to lend a genuine freshness that makes it special. The Darkness Between is such an album.
© 2005 Phil Derby / Electroambient Space
The Darkness Between (2005)
Astrogator is a duo of Jez Creek (aka Modulator ESP) and Steve Humphries (aka Create). The Darkness Between is their first album together that contains three long tracks simply named "Part 1", "Part 2" and "Part 3". So, reviving the old tradition of naming EM tracks, what do we get, musically? Abstract sounds get "Part 1" underway. The mood is appropriately dark and mysterious. Some choir sounds can be heard and then a chilly synth pad line. It's all dark, frosty and full of feeling - just the way I like it. Slight lead synth and piano touches are added. After the six-minute mark, a synthesized rhythm starts joined by a sequence a few moments later. However, things remain rather brooding and laid-back. Another bass sequence joins the flow after the ten-minute mark. The track creates a nice flow and could be used to accompany interstellar travels, having a fitting title too. A mournful lead line floats on top but departs all too briefly, only to return a couple of seconds later. My only gripe concerns the sequences that seem to be overtly static. There is an atmospheric section that comes after fifteen minutes into the track. Another sequence makes its way into the sonic landscape, accompanied by another quirky one and little by little we start propelling forward on top of the most active section of this song, lead synth lines all over the place. The track ends on this upbeat note, with bass sequences coming into prominence and then subsiding to leave us with spacey melancholic notes. A great conclusion! "Part 2" heralds its coming with sharp notes and ghostly effects. Excellent, moody stuff. A mournful melody can be heard that fits perfectly with the picture created by a mélange of electronic sounds. A sawy bass melody provides an extra oomph. This is dramatic and emotional music that I enjoyed immensely. Although I was somehow puzzled when it ended all too abruptly. Effects are once again what introduces us to "Part Three". This tine it's a bit more aggressive and menacing, with some razor-sharp textures and synth drones. Dramatic string stabs add to the picture. A frenetic sequencer rhythm starts that clearly supports this "menacing" mood. At one point the sequencer is tweaked in real time - nice! What develops further I can only describe as sequencer mayhem - with several overlapping patterns making things truly intense. A reflective melody is played on top with brief lead line flashes. After a while it all calms down to return to the initial atmospherics. Jez Creek and Steve Humphries have created a fine cosmic Electronic Music album. Knowing the solo work of both I was expecting some sequencer-based stuff in the Berlin School style and two of the tracks ("Part 1" and "Part 3"), indeed, deliver sequences in high doses, with the awesome atmospheric track in between (that's a bit marred by the abrupt ending, I must admit). My favourite track is probably "Part 2", followed closely by "Part Three".
Review by Artemi Pugachov - Encyclopaedia of Electronic Music
Astrogator The Darkness Between
CDR / 3 tracks / 58.17 mins
I have known Jez Creek and Steve Humphries, who are Astrogator, for a little while now and two more likable blokes it would be hard to meet. They have both been producing music by themselves and I am now delighted to say that in working together they have created a very enjoyable album. The music is split into three parts of the CD title. Wonderful cosmic wizzers and whooshes (for want of a much better term) act as an introduction to 'Part One'. A slow rhythm and looped piano get things moving. Another sequence is added as vast pads swell in the background. This is taking a typical Berlin School type approach but with also some character of their own. In the eleventh minute a nice lead line comes to the fore. The sequence remains fairly constant acting as a framework around which the ever changing backing weaves. With ten minutes to go we take a breather as the sequence departs and we are left with lovely soft pads and more cosmic effects. Out of this excellent organic gloop emerges another sequence which develops nicely then a rhythm is brought into formation and we gradually begin to motor.

'Part Two' has an even more impressive cosmic introduction than the opener- the sounds chosen being heavenly. This time however we stay in atmospheric mode from beginning to end. A deep bass rumble starts to test the speakers providing contrast to the underlying ethereal beauty. At the five minute mark there is a subtle change in mood as the soft pads begin to swell. In the ninth minute a very delicate sequence does make an entrance but it is more like a gentle rain causing ripples on a lake. Within the last three minutes though the mood changes again as vast bass throbs can be heard heralding a return of the sequence and a more active area of the cosmos. I do think the track ended a bit abruptly. Not sure if it was intentional but if so it didn't work very well. No worries though as Astrogator save the best till last.

As expected 'Part 3' also begins with spacey effects then a little melodic motif, which is heard both at the beginning and at the end of the track, makes its first appearance - all very 'Close Encountersish'. Quick on its heels a superb sequence hurtles forwards, soon joined by another. Together they kick up quite a storm, fitting perfectly with the explosive backing. By the eighth minute they are morphing wonderfully and if things weren't exciting enough anyway yet another sequence is brought into play. In the tenth minute a fresh melody is deployed, snuggling nicely amongst all the syncopations. Throughout, this album has a very improvised feel so it isn't too surprising that the closest comparison I could think of was AirSculpture - not an exact comparison but we are heading in that direction.

This is an excellent first collaboration and especially on the evidence of the last track I am expecting great things from them in the future. (DL)

Review by Dave Law of Synth Music Direct